Iran chce zniszczyć sześć milionów Żydów!
Posted by Marucha w dniu 2020-02-06 (Czwartek)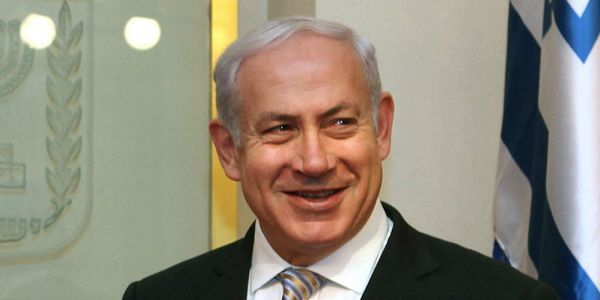 Po paradzie w Moskwie 9 maja 2018 roku upamiętniającej zwycięstwo na Niemcami w II wojnie światowej, 70 lat po holokauście, w rozmowie na Kremlu Netanjahu ostrzegł Putina: "Istnieje kraj na Bliskim Wschodzie, Iran, który nawołuje do zabicia kolejnych 6 milionów Żydów".
Jonas E. Alexis, czarnoskóry matematyk z Korei Południowej piszący dla "Veterans Today" zauważył, że "nikt nie wymyśliłby takiego głupiego stwierdzenia, nawet gdyby unicestwił uncję komórek mózgowych".
Być może nie wie jeszcze, że liczba 6 milionów jest filarem religii holokaustu, bez którego państwo Izrael nie miałoby powodu do istnienia.
Faktem jednak jest, że poza Izraelem Iran ma największą populację żydowską na Bliskim Wschodzie. Mało tego, pomimo groźnych napięć na linii Tel Awiw – Teheran, irańscy Żydzi mają się świetnie, czują się bezpieczniej w Iranie niż w USA czy UE. Nie są prześladowani, tak jak w każdym innym kraju osiedlenia tak i w Iranie, starają się mieć wpływ na rząd i jego politykę.
Co irańscy Żydzi mają do powiedzenia na temat samego Benjamina Netanjahu? Czy uważają go za swojego przedstawiciela i szanują jako przywódcę narodu żydowskiego? Bynajmniej.
Ciamak Morsadegh, irański parlamentarzysta z wyboru, skądinąd Żyd oświadczył: "Benjamin Netanjahu i antysemici potrzebują siebie nawzajem: dostarczają sobie nawzajem tego, czego potrzebują – nietolerancji i nienawiści. Faktem jest, że Iran jest miejscem, w którym Żydzi czują się bezpiecznie i cieszymy się, że jesteśmy tutaj. Jesteśmy dumni z tego, że jesteśmy Irańczykami. Wiem, że to nie jest zgodne ze scenariuszem syjonistycznym, ale taka jest rzeczywistość. Nikt też nie zmusza Żydów do pozostania tutaj. Izraelczycy oferują Żydom pieniądze na emigrację do Izraela, ale my decydujemy się pozostać. Uważam, że działania Netanjahu i jego rządu, sposób, w jaki zachowują się wobec Palestyńczyków, powodują problemy dla Żydów na całym świecie. Nie jestem jedynym, który wyznaje te poglądy. Czy nie wolno mi tego powiedzieć, ponieważ jestem Żydem?"
Można mniemać, że Żydzi zasiedziali od wieków w Iranie, nie mają zbyt rozległej wiedzy na temat wydarzeń w Europie w czasie II wojny światowej. Być może nie obchodzi ich nawet los europejskich Żydów, z którymi prawdopodobnie nie mają nawet pokrewieństwa genetycznego. Ale powinny ich zmrozić słowa Natanjahu wypowiedziane do Putina, że Iran planuje eksterminację Żydów.
Liczba 6 milionów ofiar była znana w Ameryce jeszcze przed wybuchem II wojny światowej a o prześladowaniach Żydów w Europie pisała na swoich łamach poczytna i "prestiżowa" żydowska gazeta "The New York Times".
W latach gdy w Europie, szczególnie w Niemczech, Żydzi wiedli szczęśliwy żywot, zajmowali pierwsze miejsca w polityce, gospodarce i bankowości i nikt ich nie prześladował, w "The New York Times" ogłaszano hiobowie wieści i strasznym losie jaki czeka 6 milionów europejskich żydów. Już w 1936 roku! (Liczba 6 milionów Żydów, którym grozi śmierć, pojawiała się w amerykańskich gazetach już w XIX w. Zob. powyższe zdjecie  – przypis WM).
Jeśli o tym nie wiedzą żydzi w Iranie, to czas najwyższy by się dowiedzieli, być może jeszcze mają chwilę na to by jednak opuścić Iran! Żydzi europejscy mieli czas by wyjechać, cała Europa łącznie z Niemcami prowadziła akcję przesiedlenia Żydów do Palestyny, Polska wydała na ten cel największe sumy inwestując w budowę osiedli.
Ale Żydzi się opierali, dobrze im się żyło w zasobnej Europie. Ci co nie wyjechali – zginęli. Z czyich rąk? Na mieście mówi się, że z niemieckich, a teraz coraz częściej, że z polskich. Ale to są jedynie półprawdy, prawda bowiem nie została jeszcze objawiona z powodu potężnego oddziaływania religii holokaustu w całej cywilizacji zachodniej.
Kogo będzie obchodzić prawda gdy sholkaustowani Żydzi będą gryźć ziemię? Niech więc opuszczają Iran jak najszybciej, bowiem można zaryzykować mniemanie, że na ich osiedla i domostwa będą skierowane najpierw ataki bombowe i rakietowe, a amerykańscy chłopcy z lądu dokonają reszty, tak jak dokonali tego w Europie chłopcy niemieccy. Holokaustem jednak będzie obciążony Iran, jego rząd i jego naturalni obywatele. Nikt nie stanie w obronie niszczonego Iranu, gdy wszystkie światowe media głównego nurtu będą relacjonować o irańskim ludobójstwie na Żydach.
Jeśli się mówi, że Netanjahu jest szalony lub podąża za diabolicznym scenariuszem, to jedno i drugie jest prawdą. "Ludzie myślą, że Shoah [Holocaust] się skończył, ale tak nie jest. Trwa cały czas" – ogłosił Benzion Netanjahu, ojciec premiera Izraela, przed wyborami jego syna w 2009 roku.
Jakie opcje ma do zrealizowania izraelski przywódca? Dwie proste: zachować Izrael choćby za cenę kolejnego holokaustu, lub kontynuować dotychczasową politykę, której celem jest ustanowienie Jerozolimy jako jedynej stolica świata. Jedna opcja nie wyklucza drugiej a nawet stanowi jej uzupełnienie. Kto bowiem będzie miał moc zaprzeczyć kłamstwom, gdy wszystkie światowe syjonistyczne media głównego nurtu będą głosić chwałę Wielkiego Izraela?
Autorstwo: Slav
Źródło: http://slav.neon24.pl/post/143742,bibi-do-putina-iran-chce-zniszczyc-szesc-milionow-zydow
https://wolnemedia.net/
Komentarze 23 do "Iran chce zniszczyć sześć milionów Żydów!"
Sorry, the comment form is closed at this time.